This afternoon, I grabbed my crock pot, some beef back ribs (not baby back ribs) a packet of vegetable stock and started supper.
Because of the thunderstorms and threats of tornadoes, I didn't get a bunch of pictures.  I was hurrying to get everything into the crock pot and praying that we wouldn't lose power!
Okay, here we go with the ingredients:
1 pound of beef back ribs – nice and meaty
1 packet of Knorr's Vegetable Stock
1/2 cup water
Noh Hawaiian Bar-B-Q Sauce, start with about 1/4 cup for the crock pot (you'll need more later)
Place the ribs (mine came pre-sliced) into the crock pot and toss in the stock packet.  Pour the water in.  Cook on LOW for about three hours.  Pour the bar-b-q sauce on top of the ribs.  Cover and cook for another hour on LOW.
At the end of four hours, preheat oven to 350 degrees F.
Peel and slice up a few potatoes (I used one huge potato and it was enough for the three of us).  Spray 8×8 baking dish with canola oil and toss the potatoes in.  Sprinkle with salt, pepper, onion powder and garlic powder.  Pop into the hot oven.
Remove the ribs from the crock pot and spray another 8×8 baking dish with canola oil; place the ribs into the dish.  Cover with foil.  Set timer for 20 minutes.
After 20 minutes, poke the potatoes.  Mine weren't finished yet, so I set the timer for another 20 minutes.  When there were just about 8 minutes left, I uncovered the ribs and slathered them with more Hawaiian Bar-B-Q sauce (add as much or as little as you like).
Yum!  The house started smelling so delicious…um, can a house smell delicious?  Not sure about that one
Back to supper:  the potatoes were finished, so I took them out and put them into a serving bowl and topped them with a couple of pats of butter.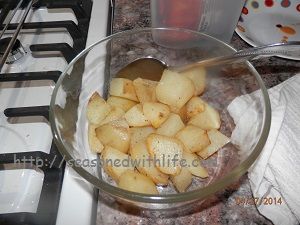 Then, I used my newly installed microwave to cook the frozen corn (not much special about frozen corn, is there?).  It took about 2 minutes to cook.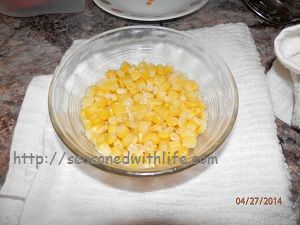 Take the ribs out of the oven and place into another serving dish, because the one that came out of the oven is too hot to handle at the table: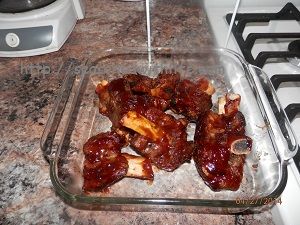 Time to set the table and holler at the guys to come and eat!
Oh, the ribs were so tender, we used butter knives to slice it off the bone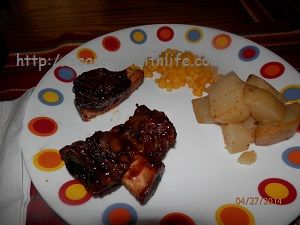 Delicious!